Ingredients:
2 tbsp - Ginger Garlic paste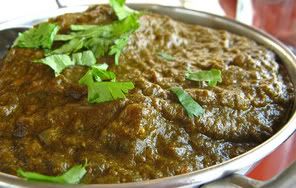 5 nos - Green chillies chopped
2 nos - Bay leaves
1 tbsp - Garam masala whole
500 gms - Spinach
Salt to taste
1 tsp - Cumin seeds
500 gms - Mutton
1 tsp - Red chilli powder
4 tbsp - Oil
1 cup - Onions sliced
Cooking Method:
- Clean, wash and cut lamb into even sized pieces.
- Blanch the spinach in salted water and grind it along with green chillies to a rough paste.
- Heat up oil in a thick bottomed pan.
- Mix in bay leaves, whole garam masala and cumin seeds.
- Add onions till golden brown, add ginger-garlin paste, red chilli powder and then mix in lamb pieces.
- Stir fry on high flame heat up stirring constantly.
- Add three cup of water and stir until lamb is almost done.
- Check salt and spinach and stir till lamb is fully mixed with spinach and tender.