In the series
about eggs
, we saw a post on making
scrambled eggs
. In this post I would like to write about making scrambled eggs but in a microwave oven than a conventional way of preparation. It is all similar to preparing scrambled eggs in a pan, this microwaved scrambled eggs.
Why did I want to write this post? cause I have an oven and have used it very sparingly and most often than not it would be used to boil water and heat coffee or milk. One fine day I thought to myself how else can I make use of the oven and it was a realization that eggs can be tested (the one thing that would not require greater time and energy). So there I started this experimentation with eggs and to my disbelief the end product (scrambled eggs) were done perfect to the "T"
Now, I go right to this post... find below the ingredients and the instructions.
Ingredients :
(the same ingredients as a regular preparation)
3 nos - Eggs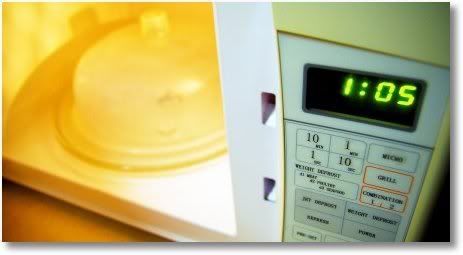 Salt and pepper to taste
2 tbsp - Butter
3 tbsp - Milk
1 tbsp - Cheddar Cheese
Cooking Instructions :
- Break the eggs into a bowl
- Add one tablespoon of milk, this will ensure the dish does not turn out tough or rubbery.
- Mix well until the color and texture are uniform throughout.
- Add salt and pepper to season
- Grease a microwave safe bowl with cooking spray or butter. If you do this, the egg batter will not stick to the bowl in the cooking process.
- Place in the microwave and cook for 30 seconds. Remove, as they will be partially formed.
- Use your fork and stir them gently, so that the uncooked blends in with the still loose egg. Set the eggs back in the microwave.
- Microwave the eggs for about 10 seconds more and check them. The moisture content depends a lot on how you want it. If wanting drier eggs place them in the oven for a few more seconds.
- Microwave for 10 second intervals until you get more solid egg than liquid. Be sure not to overcook or burn the eggs.
Enjoy scrambled eggs on toast. If you liked the recipe, make sure you
subscribe to more such posts by Email
Suggested Reading :


Making scrambled eggs
Effective way to Hard Boil eggs
Egg Handling Handbook