Continuing the series
knowing a cuisine
with Hyderabadi cuisine, today we see Haleem a dish prepared with meat and served with rotis usually during a meal. Hyderabadi cuisine is known for its influence of the mughalai cuisine and this recipe is a signature dish (one of the highest searched recipes on the net). Going no further I bring to you the recipe for Haleem.
Ingredients :
200 gms - Wheat (whole)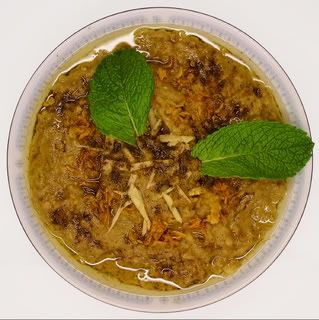 300 gms - Boneless Mutton
20 gms - Green Chillies
2"piece - Ginger
6-8 flakes - Garlic
100 gms -Ghee
3 medium - Sliced onions
1/2 tsp -Turmeric Powder
2 tsp - Garam Masala
Salt to taste
Cooking Instructions :
- Clean wheat and soak in water for 2 hours.
- Grind ginger, garlic and chillies to a fine paste.
- Clean and slice mutton into small pieces.
- Marinate mutton pieces with half quantity of ground paste and salt for 1 hour.
- Pressure cook the soaked wheat and marinated meat till done.
- Once cooked mince and grind to a fine paste.
- Heat ghee in a pan and saute onions till brown.
- Add turmeric, garam masala, salt and remaining ground paste and keep stirring occasionally on a low flame till the mixture leaves the sides of the pan.
- Adjust seasoning and serve hot.
Suggested Reading :