In the series
knowing a cuisine
we saw
Udupi cuisine
and what is it about Udupi cuisine. I though I would start it with a great recipe!!
It is just for your information that my mother makes lovely bisi bele bath and now my beloved has picked up the tricks of the trade. I am these days being spoilt with good food. So the signature dish for your benefit as below.
Ingredients :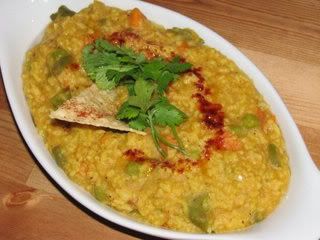 1 Cup - Rice
1/2 cup - Toor Dal
2 Nos - Boiled Potatoes
1/4 cup - Cooked Peas
3 Tsp - Ghee
10 Nos - Cashew
1/4 Cup - Grated Coconut
1 1/2 Tsp - Tamarind Paste
10 Nos - Small Onions
For Masala:
8 Nos - Dry Red Chillies
1 1/2 Tsp - Corriander Seeds (Dhania)
1/4 Tsp - Fenugreek Seeds
1/2 Tsp - Urad Dal
1 Tsp - Bengal gram
1 Tsp - Khus Khus
1 No - Bay Leaf (Patta)
Cooking Instructions :
- Fry the above masalas in a dry pan and powder them.
- Mix Rice and Dal and cook in cooker.
- Heat oil in a pan, fry onions till brown, add cut boiled potatoes and peas, can also add brinjal.
- Add tamarind powder and 1/2 cup water and salt and the ground masala powder. Let it boil.
- Now add cooked rice and dal and mix well. Remove from flame.
- Fry the coconutes till brown and powder them.
- Garnish with chopped coriander, fried cashews and powdered cocounts.
Enjoy the lovely bisi bele bath like I do. Don't miss more such posts that are due in the future,
subscribe to more such posts by Email
Suggested Reading :


Udupi Cuisine
Hyderbadi Cuisine
Chettinadu Cuisine