In the series
Knowing a Vegetable
we saw about Broccoli and that was it. I realized that I had not provided you with any recipes using broccoli or did I? After double checking I have understood that I am not so irresponsible as I though I was. We saw about
Broccoli Soup
in the series Knowing a vegetable. Phew..... that was well put forth...
Now in continuation we would look into another beautiful (to look and to eat) dish "The Broccoli Quiche". Before I go further into the post I would want to let people know what a Quiche is (Sounds quishy) anyways, . A quiche is is a baked dish that is made primarily of eggs and milk or cream in a pastry crust. You can even term it an open pie which is not sweet. Alright so the recipe for Broccoli Quiche is as below
Ingredients: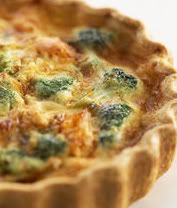 225 gms - Broccoli florets.
225 gms - Shortcrust pastry.
100 gms - Gruyere grated.
3 nos - Eggs.
2 tbsp - Tomato ketchup.(Tomato concasse is good)
300 ml - Milk.
Salt and pepper to taste.
Cooking Instructions:
- Line a 230mm flan dish with the shortcrust pastry.
- Cook the broccoli until slightly crisp and still very green.
- Evenly spread the tomato ketchup over the base of the pastry.
- Put the drained broccoli florets over the ketchup to form a broccoli layer.
- Beat together the milk, eggs, salt, pepper and half the grated cheese and pour into the flan case.
- Sprinkle the remaining cheese over the top of the quiche to form a thin layer.
- Cook on the bottom shelf of the oven for 30 minutes until the quiche is set and the cheese is golden brown.
Enjoy your quiche. If you feel you can get more of such information on food and dont want to be left behind,
Subscribe to World Cuisines by Email
.
Suggested Reading :


Broccoli, A vegetable
Cream of Broccoli, soup