In the series
Knowing a Fruit
, we saw what avocados were and we also saw one or two recipes using avocado as a primary ingredient. Today we see another recipe using the fruit, avocado.
Avocado as one would know now is a very versatile fruit and can be used for varied applications in the dishes we prepare.
The avocado mousse is a perfect dish to make out of avocados, there isn't much that we have to do to prepare this. Find below the recipe for avocado mousse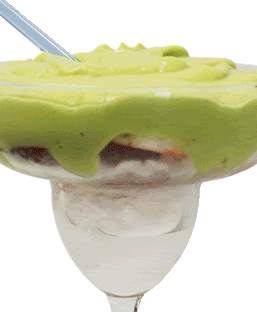 Ingredients:
3 avocados.
½ cup of 35% cream.
¼ cup of sugar.
Freshly squeezed juice of 2 limes.

Preparation Instructions:
- Whip the cream and the sugar in a mixing bowl to soft peak stage.
- Cover and refrigerate the cream.
- Peel and pit the avocados, mash the avocados without lumps
- Blend the avocados and lime juice in a blender until smooth.
- Fold the avocado and lime mix into the cream we had stored in the refrigerator.
- Ensure that the cream is not over handled.
- Pour the mixture into serving glass or dish and keep them in the refrigerator until it is time to serve.
For more such recipes and articles on food to be delivered to you,
subscribe to World Cuisines by Email
Suggested reading :


What are avocados
Avacado Chutney
Avocado Dip